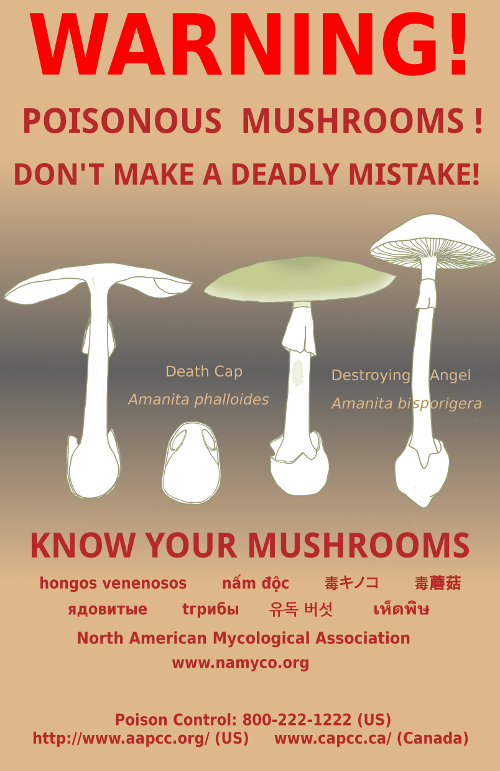 Fourteen people were confirmed with poisoning from unknowingly eating Amanita phalloides — commonly known as death cap mushrooms — during a two-week period in December 2016 in California, according to the Morbidity and Mortality Weekly Report posted Thursday by the Centers for Disease Control and Prevention. Three of the victims required liver transplants because of irreversible fulminant hepatic failure. One of those patients, an 18-month-old child, developed cerebral edema and suffered permanent neurologic sequelae. The death cap is a triple threat, according to
the research posted by the CDC
:
The death cap is easily confused with non-poisonous species;
The substances in death caps that are toxic to humans are heat stable and are not inactivated by cooking; and
A lethal dose can be as low as 0.1 mg/kg, and a single mushroom can contain up to 15 mg.
"The morbidity and potential lethality associated with A. phalloides ingestion are serious public health concerns and warrant medical provider education and dissemination of information cautioning against consuming foraged wild mushrooms," the public health researchers wrote. The death cap is responsible for the most deaths following ingestion of foraged mushrooms worldwide. Public health officials were not completely surprised by the unusually high number of poisonings this past foraging season. In late November 2016, members of the Bay Area Mycological Society notified the California Poison Control System (CPCS) of an unusually large seasonal bloom of A. phalloides mushrooms in the greater San Francisco Bay Area. Five days later, CPCS received notification of the first poisoning of the season. During the next two weeks, CPCS was notified of the other 13 cases of hepatotoxicity from A. phalloides ingestion. "CPCS strongly advises against eating foraged mushrooms without their being evaluated by a trained mycologist," the researchers wrote in the CDC report. "In addition, health care providers should be aware of potential toxicity of A. phalloides and contact their local poison control center for assistance if they see patients who are ill after eating foraged mushrooms. "… Patients who are evaluated early in the course of their illness might be discharged home only to return later with indications of liver failure, contributing to the relatively high case fatality rate of 10 percent to 20 percent." In California, particularly the state's northern coastline areas, the death cap grown in a symbiotic relationship with oaks and other hardwood trees. Though they are abundant in early winter, the foggy coastal climate and increasingly warmer temperatures support year-round growth, according to the researchers. "A general increase in naïve foraging and wildcrafting activities, i.e., gathering plant material from its native environment for food or medicinal purposes, raises risk for poisoning," the scientists wrote.
(To sign up for a free subscription to Food Safety News,
click here
.)
Fortuitous weather and the increasing popularity of wild mushrooms combined in California to make a particularly dangerous foraging season this past winter and public health officials say the threat is ongoing.